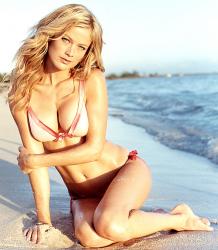 Biography
Carolyn Murphy was born on August 11, 1975, in Fort Walton Beach, Florida. Although she didn't intend on becoming a model during her childhood, she eventually enrolled in a modeling school thanks to the encouragement of her mother.
It didn't take long for her to gain recognition, and soon she was taking on local modeling jobs and attending modeling conventions. An agent at one of these conventions spotted Carolyn and, before she knew it, she was modeling in Paris and New York.
carolyn murphy on vogue and elle
Fast-forward several years, when Carolyn was spending most of her time modeling in New York City. Not only has she appeared in countless fashion shows, but she has also posed for many fashion magazine covers, including Vogue (U.S., France, UK, and Italy), Harper's Bazaar, W, Elle (UK and France), and Marie Claire (Italy) -- so don't be surprised if her gorgeous face looks familiar.
Carolyn already has experience attaching her face to a brand, as she starred in Calvin Klein's perfume commercials and print ads for the "Contradiction" fragrance, and in September 2001, Carolyn was named Estee Lauder's newest spokesperson. While actress and producer Elizabeth Hurley has been the cosmetics giant's spokesperson for the past seven years, Carolyn and Elizabeth's glamorous appeal complement each other.
carolyn is the face of estee lauder
The start of Carolyn's Estee Lauder career was marked by her first appearance in the billion-dollar company's worldwide magazine campaign, as well as in ads for its makeup and skin care lines, and even its spa.
carolyn in liberty heights
But she didn't need Estee Lauder to give her supermodel status; she received that when she was named 1998's "Model of the Year" at the VH1/Vogue Fashion Awards. She was also one of the models to grace the cover of Vogue's "Models of the Millennium" issue.
Carolyn successfully made the transition from model to actress in 1999, when she appeared in Barry Levinson's film, Liberty Heights. The director wanted to cast someone with a Grace Kelly appeal (ironically, Carolyn has been dubbed "The Blond Haired Gene Tierney" by Elle), and she fit the bill. She auditioned for the role after her agent encouraged her to do so, and unlike many other models turned actresses, she was praised for her work.
carolyn murphy in sports illustrated
Carolyn Murphy is also a mom to daughter Dylan Blue, who was born in December 2000. Amazingly, she weighed 182 pounds during her pregnancy and worked her way back to a 120-pound, 5'9" frame without the help of a personal trainer. Luckily for us, her hot body is on display on the cover (and the inside pages) of 2005's Sports Illustrated Swimsuit Edition. She also appeared in SI's Swimsuit Edition in 2004, but making the cover can be considered quite a coup.
Formerly married to surfing entrepreneur Jake Schroeder, Carolyn is currently dating Brandon Boyd, lead singer of the rock band Incubus.